about Delinda VanneBrightyn and Dogology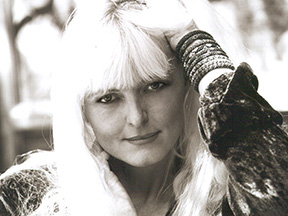 Delinda VanneBrightyn created Dogology through her love, experience, and ongoing passion for dogs. She has been helping others to solve dog behavior issues for the last 9 years. From unwanted barking, chasing rabbits, jumping up, severe fear, aggression towards other dogs and people, separation anxiety, and a myriad of other common and uncommon problems, Delinda has successfully faced it all. She has been making a difference for dogs and their people, but how could she reach more people, and thus, help more dogs?
Delinda's vision for Dogology was to create a world-wide public platform from which the latest knowledge about canine behavior, health, care and lifestyle could be made available. Education is power and through knowledge, better lives for ourselves and our dogs is possible. In helping more people understand more about dogs, Delinda beleives that our shelters will be less burndened by unwanted dogs, dogs will become better cared for, and dogs will be able to serve their people more fully.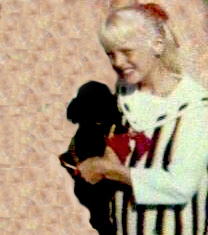 When Delinda was 4 years old, she was in a fire and received second and third degree burns on her legs and feet. She could not walk for weeks. At her bedside, her father told her he would do anything for her, just to be well. She said, "Would you please get me a dog?" He might have been sorry he asked, but he kept his word and for Delinda, it was the beginning of a life-long passion and love-affair with dogs.
There has always been a dog in Delinda's life since, each one furthering her education and commitment to dogs, each one fueling her desire to know more and become a better, more competant and understanding handler. Besides Delinda's desire to know more about dogs, she always exhibited a natural ability with animals, even earning trust from wild animals and birds.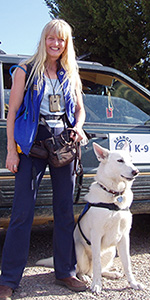 Since 2003, Delinda has been a member of Taos Search and Rescue (TSAR), which operates in the wilderness areas of the State of New Mexico and points into Southern Colorado. She helped form the TSAR K9 Unit, a special resource unit of TSAR, and has served as K-9 Unit Leader since a year after the unit's inception in 2003. Additionally serving as TSAR's Training Officer for six years, Delinda has now taken the helm as President of the team.
As a ground and K-9 search specialist , Delinda handles K-9 Zatoichi, a White Shepherd, which she has trained in air scent (generic and scent specific) and trailing. Zatoichi is proficient in both live find and human remains. They work through TSAR for the NM State Police in off-road initiated missions and for other law enforcement agencies in the Southwest region for homicide and missing persons.
For the past 9 years, Delinda has taught dog behavior in her community of Taos, with specialties in altering aggressive and fear-based behaviors, building focus and drive, and teaching patience in drive techniques. She is recognized in Taos County as the go-to person for dog behavioral issues and teaches both privately and through community sessions.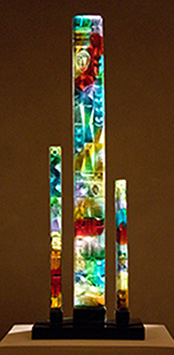 In 2004, Delinda helped resurrect her community's closed animal shelter . Renamed Stray Hearts Animal Shelter, Delinda served as the first President of the Board of Directors for 3 years. Under her leadership, the live release rate averaged 97.3% and she was instrumental in getting the shelter back on firm footing with the community and town government.
Besides specializing in the K-9 search modality and dog behavior-based training techniques, Delinda's other SAR specialty lies in navigation, where she has developed GPS/compass/computer models to increase POD (probability of detection) and search effectiveness. She has taught at State SAR Conferences in both navigation and K9 . In 2012, she led a 2-day training exercise for a 30-member unit of the US National Guard in ground search techniques and navigation in the Sangre de Cristo Southern Rocky Mountain Range.
Delinda works by day as an artist/sculptor, casting in glass and bronze. Her works are in private collections across the United States.
More About Delinda and Zatoichi...
Delinda and Zatoichi in the News