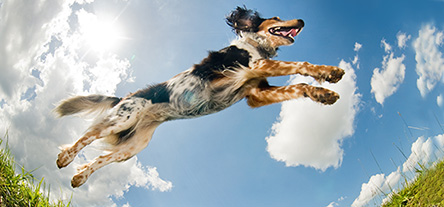 Discover great tips and intriguing facts in the Dogology Blog! Learn the latest news and see the best videos right here! Share your thoughts and comments...It all about you and dogs at Dogology!
DOGS IN THE NEWS: Man Comes Through Oklahoma Tornadoes to Deliver Precious Cargo
22 June 2013 | posted by Delinda VanneBrightyn | in In the News
KMSP-TV
Thirty-nine dogs were on board Scott Whyatt's truck and trailer rig waiting to meet their new families and to finally arrive in their forever homes.
Whyatt was on his way from Texas to Minnesota, transporting his freight of 39 four-legged friends to new homes when tornadoes touched down in Oklahoma once more. Although he was a over 8 hours late arriving, he got a warm welcome in the form of a standing ovation in Eagan when he finally arrived with 39 dogs that will go to families there.
See More, Read More, & Comment...
From the KMSP Fox 9 Report
Whyatt was able to wait out the storm on the side of the road, it set him back almost eight hours. Ten people were killed in the storm, including 3 tornado chasers. Whyatt said he was thankful to be alive, and more thankful that his precious cargo was safe.

Karen Halvorson, her husband and three children were anxiously awaiting the arrival of Scooter, a dog they agreed to adopt from Tracy's Dogs, owned by the husband and wife team, Scott Wyatt and Tracy Voss in San Antonio, Texas. Tracy's Dogs rescue dogs off the streets and find new and loving homes for them across the country, delivering them to places where families are waiting for dogs. The Halvorsons will be meeting Scooter for the very first time and can't wait for Scott to arrive safely.
Read more: Texas man brings dogs through Okla. twisters to Minn. families - KMSP-TV http://www.myfoxtwincities.com/story/22480696/texas-man-brings-dogs-through-okla-devastation-to-minn-for-adoption#ixzz2V5vwK8lL .

Here, Karen Halvorsen, with her daughter, is embracing Scooter for the first time.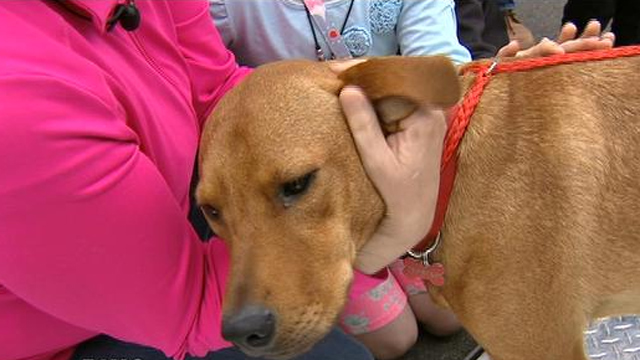 Run Over By a Car, Jaine Had a Broken Back and a Broken Spirit
22 June 2013 | posted by Delinda VanneBrightyn | in In the News
Watch this heartwarming video as Eldad Hagar makes the critical right moves to repair Janie's broken spirit and mistrust of human care.
Read More and Comment...
More on the story

from the Huffington Post


Once ravaged by excrutiating pain and terror, a brave dog's inspiring recovery is a testament to the power and resillience of the canine spirit. With just a little patience and love, coupled with the Bill Foundation and a group of people who cared enough to help a seemingly hopeless situation, Janie trusts life and people once again.


Janie, a 2-year-old terrier mix, was brought to a shelter in the Los Angeles area in mid-April. She had been run over by a car after being abandoned by her owner. According to Annie Hart, executive director of the Bill Foundation, a Beverly Hills-based rescue organization that rehabilitates and finds homes for dogs taken from the streets and from shelters, Janie's back -- and spirit -- had been broken by the trauma she had endured.


"In so much pain, and in a strange place, she was too scared to let anyone touch her. She quickly was labeled aggressive and it looked like her chances for a recovery or even a chance at life were most likely over. At this point, Janie had less than a 10 percent chance that she would get out of the shelter alive, Hart told The Huffington Post.


Huffington Post reports, "According to the ASPCA, approximately 5 to 7 million dogs and other companion animals are brought into U.S. shelters every year. About 3 million to 4 million are euthanized."


But luck was smiling on Janie. The Bill Foundation, Hart and Hope for Paws founder Eldad Hagar got word about Janie's plight and refused to give up on her. Through the dedication of the shelter's employees, concerned animal welfare workers, and donations from people all over the world, Janie was given the care she needed to not only recover, but to survive.


Donations were procured from Hart's plea for Janie on the Bill Foundation Facebook page. In very little time, they were able to take Janie to the Los Angeles' Animal Specialty Emergency Center to undergo surgery for her broken back.


"Luckily for Janie, the fracture is of the seventh lumbar vertebra, which can be fixed with surgery. Had it been much higher, she would have been paralyzed for life," said Hart, adding that the procedure had still been challenging, as the pup had been "so fearful of the world" that she often wouldn't allow the medical team to get close to her.


The surgery proved successful, but only half the fight for Janie's life was over.


"The first time I went to see Janie after her surgery, she was painfully scared and acting aggressively. I sat with her for quite some time, but I couldn't get near her. Even her doctors were having a difficult time medicating her and checking her vitals," said Hart. "A few days later, with her medical team's approval, I asked Eldad [Hagar] to visit her with me and see if he could get through to her."


Hagar is known for his ability to connect with even the most desperate and aggressive of canines. Sitting quietly with just the right energy and demeanor, Hagar was able to break through Janie's fears. The deeply moving video above tells the whole story.


"Honestly, before I saw what he was able to do, I was gravely concerned that Janie was going to be a very difficult, aggressive dog forever. However, Eldad had a profound ability to connect with Janie and help put her at ease," said Hart of the pup's miraculous turnaround. "Each step he helped her make was more beautiful and tender than the last and something I think all humans can learn from. Time, compassion and patience can go a long way to heal the deepest of wounds."


After Eldad's breakthrough with Janie, it took mere weeks for her to transform into a happy, healthy dog. Currently, she is living with a foster family, awaiting her forever home.


"I became a part of dog rescue because I firmly believe in the power of second chances, and being a part of Janie's story reinforces this tenfold," said Hart. "Moments like this help fuel my soul to keep rescuing and sharing stories like Janie's, with the hope that just one person will see it and be moved by it. Maybe when they see a frightened dog in the shelter they will think twice and give them the second chance they so richly deserve."


Visit the Bill Foundation's Facebook page to learn more about the organization and the great work it does.

Friends Across Species...Dog and Jaguar Become Inseparable Friends.

16 June 2013 | posted by Delinda VanneBrightyn | in In the News

Unlikely, yes, but not impossible.Jag, a jaguar, was brought to South Africa's Akwaaba Lodge and Predator Park, which is home to many domesticated African cats. The park offers guests personal interaction with the cats that live there.

Read More and Comment...

Barcroft TV Reports...


Jag, however, could not get completely comfortable settling into his new environment. The park's owner kept Jag near her, but she could not have him around her all the time and sleeping near her every night because she has many animals to care for. So she thought of her little Jack Russel terrier named Bullet.


She introduced Jag to Bullet and they have been steadfast friends ever since. Bullet and Jag show us the ultimate canine and feline harmony, living and playing together each day. With Bullet, Jag has comfortably settled into his new environment. As it turns out, they have become inseparable, pining for each other when apart.