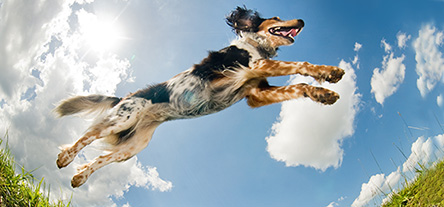 Discover great tips and intriguing facts in the Dogology Blog! Learn the latest news and see the best videos right here! Share your thoughts and comments...It all about you and dogs at Dogology!
LIVING FULLY WITH DOGS: Dock Diving! Fantastic Fun for You and Your Dog!
18 June 2013 | posted by Delinda VanneBrightyn | in Living Fully With Dogs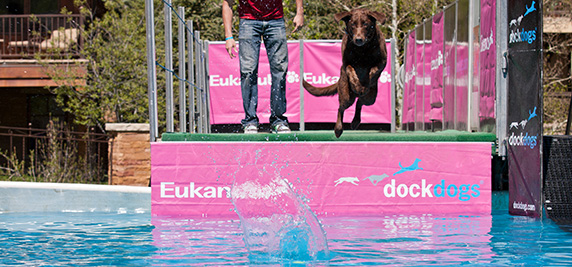 Dog competing at an Eukanuba sponsored Dock Dogs event!
Dock Diving has definitely created a big splash in the dog world! There are multiple companies producing dock-diving events across the US and there are local and regional clubs that you can join with your dog to get started and learn more. It is all in good fun, but titles can also be earned.
Watch an Introductory Video by Dock Dogs & Comment...
More on Dock Diving
The United Kennel Club awards titles through competitions given by Ultimate Air Dogs and Splash Dogs. Events are held across the country in the following categroies: Big Air, Extreme Vertical, and Speed Retreive. If a dog enters all three evetns, points earned in each event go toward total points in the Iron Dog Competition, a symbol of overall athleticism.

The regulation size pool is four feet deep and dogs run and dive from a platform that is 2 feet above the water. Most competitions are held in a regulation dock diving pool, while some competitions are in a natural body of water. No matter the set-up, the event is open to everyone, with a few basic qualifying rules for safety: there is a minimum age requirement, dogs must be current on all shots, and female dogs in heat are not allowed. There is no need for your dog to be an accomplished jumper, just get started and join the fun!

Here are a few dock diving companies you can check out for their dock-diving calendars: Dock Dogs, Ultimate Air Dogs, Splash Dogs, and American Diving Dogs. There are a lot of local, state and regional clubs as well across the country where you can get started and learn more. Just type in a search with "dock diving", and the name of your state. Then hook up and have some wild and wet fun with your best buddy.
Agility is more than just competition. It can be a way for you to boost your dog's confidence and how they react to the world around them. You can do regular agility without competing, or if you find you and your dog are loving it, then competitions abound.
Some dogs take to agility challenges right away while others have fears to overcome; slippery surfaces, things moving under their feet, going through a small, enclosed space, etc. But if you help and nurture them along the way, more confidence is built, changing the way they generally face the world. They love the challenge and will love you for it!
Watch the Purina National Incredible Dog Agility Challenge & Comment
More

on Agility

When first introducing your dog to agility equipment, use lots of food and reward for even small steps. The more shy or timid dog may need to take it very slow at first. Even putting a paw on the surface or just standing still on the equipment is a good first acheivment worth lots of praise and treats.


And if you are not planning on competeing, you can do agility slow. Not all dogs are made to go super fast anyway. There are no rules, except in competition, that tells us the dog has to speed through the equipment. But, if you are going to compete, speed must be achieved.

In fact, in search and rescue, we actually train the dogs to go through the equipment very slowly and carefully, doing stop, sit and down commands along the way. In real search situations, our dogs can face precarious situations and going slowly and carefully on distant command can save their life. Both approaches are fun and challenging for you and the dog.


There are ususally local clubs that do agility. You can also find local training or doggie day care/bording centers that have agility equipment which is sometimes available for use at a small fee. Why agility? It fosters confidence. It is great physical exercise, building balance, surety and dexterity. It also offers plenty of mental stimulation and challenge for those dogs needing something to do, "a job". Oh, and did I mention what fun, fun, fun it is? So, give agility a try...your dog will love you for it!




CGC: Canine Good Citizen

28 May 2013 | posted by Delinda VanneBrightyn | in Living Fully With Dogs

This very thorough video by rucatrouble on YouTube goes through all the basic CGC steps.

The Canine Good Citizen Test is established by the AKC: American Kennel Club. Any dog, pure breeds or mixed, can take the test from an AKC certified evaluator and earn the CGC title. It is a wonderful and worthy goal for you and your dog and by taking the challengs, helps you establish the basics of good obedience and social behavior. Training centers and clubs in your area will offer this training and testing.